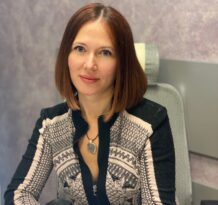 Anastasiya Vasilkova
The history of the Choupette began with the desire of the founders to create quality and beautiful clothes for their own children and friend's children, which, for all their advantages would remain affordable.

The brand announced itself in 2007 by presenting a wide range of goods for newborns and children from the year. Successfully occupying its niche and dynamically developing, Choupette gradually enlarged the assortment with new product groups, capsule collections and increased the size range. Today Choupette is an exclusive designer clothes for children from 0 to 14 years old. For 10 years of existence the Russian brand Choupette has won the hearts of customers from many countries of the world and fallen in love with even the punctilious buyers. Brand founder's own children had time to grow, but the principle of attitude to the clothes Choupette remained unchanged: to create things which design and quality will be appreciated by any loving parent. In the boutiques as well as in the online store a luxury assortment of design kits for children up to one year is available: extractive baby nests and kits, beddings, a large selection of casual clothes and outfits for special occasions for children from 0 to 8 years old and a school uniform for teenagers under 14 years old. In the stores you can also find a variety of accessories for children's rooms and amazing handmade furniture, made in the best traditions of old French manufactures.

Its success Choupette in no small part due to its own design office.

Cooperation with the London agency WGSN, which predicts world trends based on an analysis of cultural events around the world, allows not only to follow fashion trends, but also to act as a trendsetter in the field of children's fashion. Choupette design bureau is working on building unique patterns, so that each model becomes the most convenient for the child, and a group of technologists monitors compliance with quality standards. The quality of the Choupette is entrusted by Russian world-scale celebrities from Alla Pugacheva to Timati, but the brand remains affordable to people with absolutely different prosperity. The company's pricing policy allows parents to dress children in unique designer clothes, which is comfortable on weekdays and holidays. Business strategy is playing an important role in the achievements of the brand. All production facilities are located on the territory of Russia. The company was and remains focused on domestic production.

---
ANASTASIA VASILKOVA ON THE TV CHANNEL "PRO BUSINESS"
Anastasia Vasilkova, Business Development Manager TM Choupette, conducted a cycle of author's programs Children's Clothing Store on the TV channel PRO BUSINESS. The guests of the program who is experts in the field of children's retail, fashion and business, together with Anastasia discussed topical issues for the market.